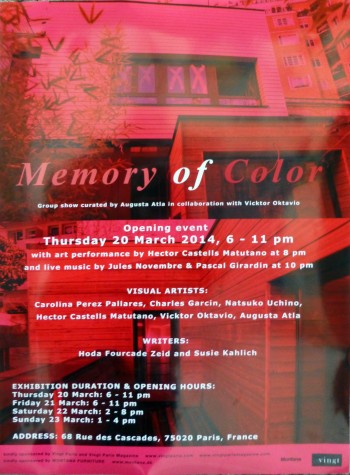 Monique and I attended an art exhibit yesterday evening.
On the first floor, we came upon a horizontal work by an unknown artist.
In a small room nearby hung some dyed fabrics.
On the top floor, ceramic works were displayed.
And on the top-floor terrace, Margherita Muriti from a town near Venice, Italy served clementines, red Côtes du Rhône wine, and Reissdorf beer.
The exhibition ends this Sunday.
Memory of Color – A Group Exposition
68, rue des Cascades
75020 Paris
Friday: 6 p.m. – 11 p.m.
Saturday: 2 p.m. – 8 p.m.
Sunday: 1 p.m. to 4 p.m.
* * * * * * *
Like our blog? Join us on
Facebook
!
Tags: Memory of Color