Last night we ate at Sunugal where we met Fatou Bâ, the chef of the restaurant. Sunugal recently won the coveted Marmite d'Or, an annual award given by the mayor's office for the best Afro-Caribbean dish among the restaurants that enter the contest.
As well as dining on delicious Senegalese cuisine, we enjoyed listening to the music of Moussa Kanouté, who sang and played the kora. I will write a blog about him soon.
Congratulations to Fatou for her role in helping Sunugal win the Marmite d'Or award!
Sunugal
3, rue Crespin du Gast
75011 Paris
Tel.: 01.48.06.86.31
Days & hours of operation: Mon to Sun 7:00 p.m. – 2:00 a.m.
Our full review of Sunugal is available for perusal in last month's edition of Paris Insights newsletter.
Paris Insights newsletter is published as a downloadable PDF file. It is available only to paid subscribers for an annual subscription fee of $30.
If you are not a paid subscriber and would like to download the newsletter, please click here. Enter promotional code 11473309154 to receive a $5 discount off the price of an annual subscription.
Bonne lecture…and bon appétit!
* * * * * * *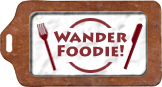 We participate in Wanderfood Wednesdays. Head over there to explore food from around the world!
Like our blog? Join us on Facebook!
Tags: Fatou Bâ, Senegalese cuisine, Sunugal