As illustrated in this photograph, the standard French breakfast that is served in cafés consists of tartines (buttered bread), croissants, jam, fresh-squeezed orange juice, and coffee. Apart from the orange juice the breakfast is not very nourishing! It is also not cheap: 10.80€ was the price for the petit déjeuner that we had at Le Comptoir des Saint-Pères. (The photograph illustrates three sticks of bread and three croissants because there were three of us at the table.)
Thanks to Doni Belau of Girls Guide to Paris for treating us this morning!
* * * * * * *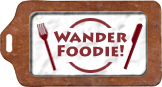 We participate in Wanderfood Wednesdays. Head over there to explore food from around the world!
Like our blog? Join us on Facebook!