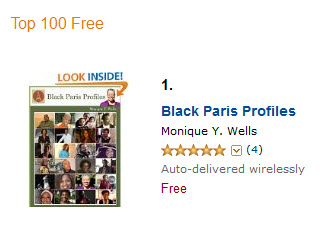 Thanks to the response of our readers, Black Paris Profiles is now Number 1 in the Kindle giveaway category Travel > Europe > France!
If you haven't already downloaded your free copy of Black Paris Profiles, click HERE to access the book and get a FREE BONUS GIFT — access to an exclusive video that we have created for Entrée to Black Paris clients. Then enjoy the book, the video, and the rest of the holiday weekend!
* * * * * * *
Like our blog? Join us on Facebook!
Tags: Black Paris Profiles™