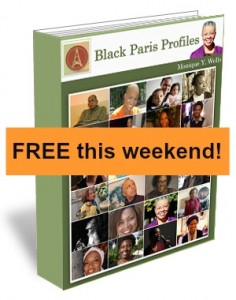 Ladies and gentlemen,
The Kindle edition of Black Paris Profiles is now available! Even better, for the duration of the Thanksgiving holiday weekend, you can get it for FREE!
Beginning at 12 midnight Pacific Standard Time on Friday, November 23rd, Black Paris Profiles will be available for download at no charge. Click HERE or on the image above to access this e-book through our Web site and get an additional free gift.
You do not need a Kindle device to read Black Paris Profiles. Amazon.com provides free Kindle apps so that you can start reading Kindle books on all your devices. There is a Kindle app available for every major smartphone, tablet, and computer. Download your app by clicking HERE.
There's no cause for delay – download your copy today!
Offer expires at 11:59 PM Pacific Standard Time on Sunday, November 25th.
* * * * * * *
Like our blog? Join us on Facebook!
Tags: Black Paris Profiles™