Last Thursday evening Maire-Hélène Gantois of Mococha, our favorite chocolate shop on rue Mouffetard, held an open-house chocolate tasting at her store. She invited Christophe Potel of Autrement Chocolat, a producer of chocolate confections in the nearby town of Colombes, to present his designer chocolates.
"Designer" is the appropriate word to use here, because Potel earned a degree in design from the Ecole Supérieure de Design Industriel and then went on to work for Dior (fashion), Christofle (tableware), Cartier (jewelry), and Léonard (fashion). After a number of years he decided that his true calling was in chocolate, so he founded his own confection company. To learn his new trade he studied with Jérôme Lespinay, the former chief of production for chocolatier Patrice Chapon.
Potel makes several kinds of chocolates, including Tubos (tubes), Amulettes (matchsticks), and Tablettes (tablets). The ones that we tasted that evening were Tubos, which look like lipstick containers.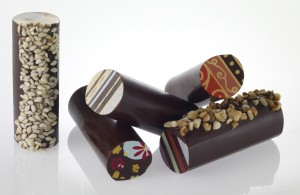 There are fifteen different flavors of Tubo. Each is identified by a distinctive pattern that is stamped on the end of the tube. Potel proclaims that the tube of chocolate can be cut into pieces and shared with friends, which is an advantage to choosing Tubos over other forms.
My preferred was the Caramel Beurre Salé Liquide, liquid salty caramel enrobed in dark-chocolate. Contrary to the other flavors, this one cannot be cut into smaller portions because the sticky caramel is immediately released and makes a mess. After the tasting, it took only two bites to consume the sample that I brought home. No cutting and sharing here! I enjoyed the rich, heavenly-sweet butterscotch flavor as it oozed out of the chocolate tube. Sublime!
Another flavor that I enjoyed was the Ganache Mojito, made of dark chocolate, mint, lime, and rum.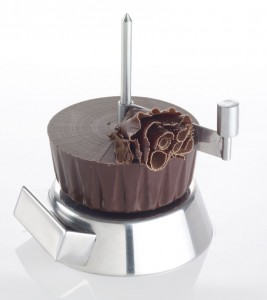 One of the products that Potel has developed (and patented) is a carrousel for producing shaved chocolate. Although the advantage of shaved chocolate is not immediately obvious, Potel's associate Céline Barbe told me that the "flowers" that are created can be served with espresso, or can be used to decorate cakes, ice cream, and other desserts. And here is another way to share chocolate with friends: place the carrousel in the middle of the table and let each guest cut a shaving for himself/herself.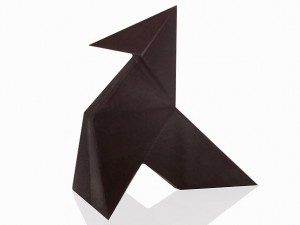 Not content with just designing chocolate tubes, matchsticks, tablets, and a carrousel, Potel has created a chocolate origami chicken for Easter. Marie-Hélène brought it out to show to us, but alas! we didn't get a chance to taste it.
Chocolats Mococha
89, rue Mouffetard
75005 Paris
Tel.: 01.47.07.13.66
Métro: Censier Daubenton (Line 7)
Open Tuesday through Sunday from 11:00 a.m. to 8:00 p.m.
Christophe Potel's chocolates will be for sale at Mococha until June 30.
* * * * * * *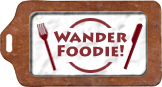 We participate in Wanderfood Wednesdays. Head over there to explore food from around the world!
* * * * * * *
Like our blog? Join us on Facebook!
Tags: Autrement Chocolat, Mococha