Last month we took the metro to the nearby town of Montreuil where we dined at a restaurant called La Grosse Mignonne. As well as enjoying a great meal, we also had the pleasure of listening to an entertainer named Vilna sing a medley of Brazilian songs. Every Saturday evening there is a music concert featuring jazz or world music.
On Friday and Saturday evenings during the month of March, La Grosse Mignonne holds jazz manouche (gypsy jazz) concerts under the sponsorship of David Reinhardt, the grandson of the famous Django Reinhardt. Some of the top performers in this musical genre come to the restaurant to play!
Read about the restaurant in this month's Paris Insights. Our review is the only full-length review of La Grosse Mignonne that you will find on the Internet.
Our newsletter is published monthly as a downloadable PDF file. It is available only to paid subscribers for an annual subscription fee of $30.
If you are not a paid subscriber and would like to download the newsletter, please click here. Enter promotional code 11473309154 to receive a $5 discount off the price of an annual subscription.
Bonne Lecture…et Bon Appétit!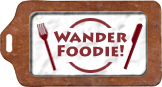 * * * * * * *
We participate in Wanderfood Wednesdays. Head over there to explore food from around the world!
Like our blog? Join us on Facebook!