In the last three posts about the Terres de Bretagne Music Festival I talked about the spectacular setting of the domain where the concerts were held. While walking around the expansive grounds, especially up and down the hill, the concert goers worked up hearty appetites. Fortunately, the event organizers had foreseen this and had set up a number of food and beverage stands at different locations.
I mentioned in the first blog that I arrived too late to get to the front of the line at the Ty Lichous stand to buy a Breton crêpe for lunch. Later, I returned and saw that the line was shorter. I decided then and there to purchase a butter-caramel crêpe and was delighted to watch it being prepared right before my eyes.
While the crêpe was being prepared, I asked the proprietor, Gilles Le Nestour-Mérelle, what the difference was between a Breton crêpe and crêpes that one could find in Paris. He told me that Breton crêpes are thinner and that they are made with blé noir (buckwheat flour). I did see some crêpes being prepared with darker flour, but my crêpe was not. (A blé noir crêpe can be seen on the griddle in the topmost picture.)
My crêpe was served in a folded paper plate. It was up to me to figure out how to eat it without a knife and fork and a table at which to sit! I bit into it and found that it was thinner and more delicate than those that I have purchased in Paris. It was a challenge to eat while standing, because I risked dripping the hot butter-caramel sauce on my clothes and camera. Happily, however, I was able to enjoy the scrumptious treat without transferring the sticky sauce to my personal effects.
There were other food stands at the concert, including one at which a man was making caramelized nuts in a copper kettle over an open fire.
One stand was selling barbe à papa (cotton candy).
Later, as I was leaving the festival, I spotted a vendor selling freshly-harvested green apples and pears for only 3.50€ for two kilograms. I couldn't resist the bargain and purchase two kilos of pears. They were slightly firm, like a crispy apple, but a few days later turned ripe and juicy.
To be continued…
* * * * * * *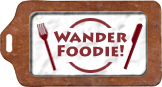 We participate in Wanderfood Wednesdays. Head over there to explore food from around the world!
Like our blog? Join us on Facebook!