To research information about olive oil for this month's Paris Insights newsletter, we purchased three types of the product from Première Pression Provence, a shop on rue Saint-Louis-en-l'Ile. The company sells oils supplied by roughly 35 small producers in Provence, a region in southern France.
There are three basic types of olive oil sold in the shop: green fruité (from olives harvested prematurely), ripe fruité (from olives picked at maturity), and black fruité (from ripe-harvested olives that have been stored under controlled conditions). We chose one of each category, each from a different producer. We took them home and tasted the oils from a spoon or drizzled on a slice of fresh baguette.
We found the green fruité from Daniel Ungaro to taste like unripened banana. It was sweet and had a sharp peppery finish.
The ripe fruité from Oliver Roux was slightly sweet with a mild peppery finish.
The black fruité from Pierre-Guy Desrousseaux was quite aromatic and slightly sweet with a peppery finish.
Each oil had a distinctive taste, with the green being sharp and the ripe and black being rounded and smooth with full-fruit flavor.
If you, the reader, have always thought that all olive oils taste the same, it is probably because you have been purchasing oils destined for mass consumption at supermarkets. Try an artisanal oil when you get the chance! They are more expensive than mass-produced oils, but you will taste the difference.
Première Pression Provence
51, rue Saint-Louis-en-l'Ile
75004 Paris
Telephone: 09.66.98.23.48
Open Sunday to Friday 10:30 a.m. – 8:00 p.m.
Saturday 10:30 a.m. – 10:00 p.m.
* * * * * * *
Our Paris Insights newsletter is published monthly as a downloadable PDF file. It is available only to paid subscribers for an annual subscription fee of $30.
To view a preview of the newsletter, click here.
If you are not a paid subscriber and would like to download the newsletter, please click here. Enter promotional code 11473309154 to receive a $5 discount off the price of an annual subscription.
Bonne Lecture!
* * * * * * *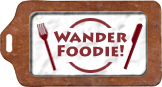 We participate in Wanderfood Wednesdays. Head over there to explore food from around the world!
* * * * * * *
Like our blog? Join us on Facebook!