Cafés Estrella is a coffee-roasting facility located at 34, rue Saint-Sulpice, right across the street from Saint-Sulpice church. I have often passed it by without paying too much attention until, just recently, I noticed that the store received a mention in the book Les Meilleurs Commerces de Bouche de Paris (Impalla Editions, 2011). And so, I decided to drop in and purchase some fresh-roasted coffee.
The proprietor, Jean-Claude Lesage, was busy filling orders when I walked into the store. At the same time, the blade in the cooling tray of his coffee-roasting machine was churning freshly-roasted beans to bring them down to room temperature.
I spotted Rwanda coffee among the coffees that he was selling and purchased a 250-gram bag of the medium-roast, whole-bean product for 6€. After taking it home, grinding it, and brewing it in my French press, I tasted it and imagined that its rich flavor was similar to bitter chocolate. So, on the very next occasion I went by the Michel Cluizel chocolate shop on rue Saint-Honoré and purchased a 30-gram tablet of "Noir Infini 99%" chocolate. Back home again, I brewed another batch of Rwanda coffee and compared its taste to the dark chocolate from Michel Cluizel. To my mind, they have a similar bitter, robust taste. Though neither of these products will please those who require sweetness in their coffee and chocolate, I find their flavors quite agreeable.
As well as a dozen varieties of coffee, Cafés Estrella also sells tea, honey, confections, artisanal spice bread, and cookies. The store is open Tuesday to Saturday from 10:00 a.m. to 1:30 p.m. and from 2:30 p.m. to 7:00 p.m.
Bonne dégustation!
* * * * * * *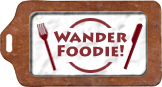 We participate in Wanderfood Wednesdays. Head over there to explore food from around the world!
Like our blog? Join us on Facebook!