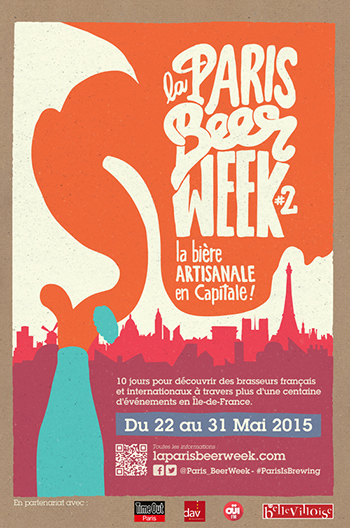 The Grand Final of Paris Beer Week is over and is nothing but a sudsy memory. But what a good time it was!
The day-long event was held at La Bellevilloise, a concert and exposition hall located in eastern Paris.
I purchased my entry pass over the Internet three weeks in advance. For only 30.99€, I got an entry ticket, a "Paris Beer Week" T-shirt, a "Paris Beer Week" drinking glass, and four tokens for beer. This was a pretty good deal, I thought, considering that I was in need of a new T-shirt for beer drinking.
André (left) and Martin (right), both sporting orange "Paris Beer Week" T-shirts, collected tickets at the door and distributed T-shirts, beer glasses, and tokens. I told André that I was alone, that my wife didn't like beer and wouldn't come with me. He replied, "That's alright. All the more beer for you!" He also told me that my glass was called a galopin, a glass that holds 12.5cl of beer. I was satisfied with this quantity. After all, how much beer can one purchase with only four tokens?
I passed through the reception hall and walked out of the back door onto the terrace. It was a beautiful day. Perfect for enjoying a beer in the sun or shade!
I spent one token to purchase a glass of La Onze beer from Joan, who was serving at a bar off to the side of the terrace. La Onze is not just any beer, but is specially brewed for the occasion by a cooperative of local craft-beer brewers. Cloudy, light-rust in color, not too bitter, it had a fruity flavor. This was a beer that I could stay with all day, but there were so many beers, so little time.
I purchased an antipasti sandwich (mozzarella, yellow and red peppers, and salad leaves in a baguette) to accompany the beer. It was a perfect gustatory match! What a day this was turning out to be!
At the table next to mine, I overheard some guys exclaiming about a black beer that one of them brought down to the terrace from the exhibition hall upstairs. "That's the next beer that I'm going to try," I told myself. I finished off my sandwich and headed upstairs.
Next…the serious beer-drinking begins.
* * * * * * *
Like our blog? Join us on
Facebook
!
Tags: Paris Beer Week