Last Wednesday I interviewed Edith Gnapié and Jean-Benoit Chauveau, co-proprietors of an Ivorian restaurant called Ohinéné in the 20th arrondissement. After the interview, Madame Gnapié, who is also chef of the establishment, gave me a small jar of Ohinévé piment à l'ivoirienne, a hot sauce that, she promised, is "stronger than Tabasco." I took it home to try.
Monique prepared our favorite dish, Miss Grace's Chicken, the recipe for which can be found in Monique's cookbook Food for the Soul. At the table, we dabbed a little bit of Madame Gnapié's piment on it and clang!, clang!, clang!, the fire bells started ringing. This is a super-hot sauce that is guaranteed to make a grown man weep!
Never fear though&#8212it is also quite flavorful. We enjoyed it with the chicken and the tangy chicken sauce.
Madame Gnapié's hot sauce can be purchased at her restaurant take-out counter.
Ohinéné
14, rue de la Chine
75020 Paris
Tel.: 01.71.20.67.62
Our review of Ohinéné restaurant appears tomorrow, in the August edition of Paris Insights.
* * * * * * *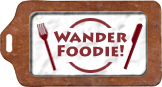 * * * * * * *
We participate in Wanderfood Wednesdays. Head over there to explore food from around the world!
Like our blog? Join us on Facebook!