We met Thomas Brannstrom at his stand Mälarchocolaterie at the Salon du Chocolat. He and his wife, Elaine Chan, produce handmade chocolates at their facility in Vasteras, Sweden. A photo of them together appears on their Web site.
Brannstrom expressed great enthusiasm not only about his line of chocolates, but also about every aspect of the business, from the packaging of his product to the designing and construction of the Mälar exhibition stand at the salon. He proudly pointed out that the beautiful boxes in which the chocolates are sold are created from the fiber of a renewable wood that grows in the forests of Sweden. He was so keen about explaining the minimal environmental impact of his operation that we were hard pressed to turn his attention back to what we were most interested in—chocolate!
We purchased the smallest box and selected an assortment of nine chocolates to place in it. Each variety is exquisitely designed, and many have unusual flavors. I did not realize until later that Mälar produces a number of exotic flavors, including horseradish. I would like to have tried that!
Here is a list of the chocolates that we did taste:
Wolfberry (goji berry) – The wolfberry is cultivated in China. It is a tiny red fruit, and one can see it on top of two of the chocolates in the photograph (below). I was unable to taste the berry in the chocolate, but my partner could. She said that it was reminiscent of cranberry, but not as intense. We both found the chocolate ganache quite flavorful.
Citron Tequila Salt – Lemon-flavored chocolate ganache with a salted top. We could not taste the tequila, but found the chocolate sublime. A cute idea to match lemon, tequila, and salt with chocolate!
Single Malt Whisky – A mild taste of whisky in rich, dark chocolate with an aftertaste of peat.
Port Melon – We were not sure that we tasted melon in this, but we found the chocolate ganache to be as good as they get!
Apple Calvados (apple brandy) – Intensely smooth, unctuous, refined chocolate. My partner tasted a hint of Calvados in the ganache, but I could not.
In retrospect, we realize that we tasted the chocolates in the wrong order, and that the essence of the more subtly flavored varieties was probably masked by the more assertive flavors of others.
Although we could not always identify the flavors for which these chocolates are named, we agree with Mälarchocolaterie's claim that its chocolates are a "Swedish chocolate luxury."
* * * * * * *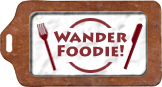 We participate in Wanderfood Wednesdays. Head over there to explore food from around the world!
Like our blog? Join us on Facebook!