One of the stands that we visited at the recent Salon du Chocolat was La Cuillère Suisse. Founded by two women, Barbara Delsaux and Valériane Tinguely, the company specializes in one form of chocolate, and one form only. It is a hardened sphere of chocolate, roughly 1 1/2″ in diameter, mounted on a stick like a lollipop. The idea is to dip the chocolate ball into a cup of hot milk and stir. Then — voilà — you have a cup of hot chocolate!
The chocolate for the Cuillère Suisse is produced by Durig Chocolatier of Lausanne, Switzerland.
We took two cuillères home with us to test them out. We each poured 7 oz of hot milk into a cup, dipped the chocolate into the milk, and stirred. Sure enough, the chocolate began to dissolve into the milk. At one point, as the chocolate melted, we tasted it straight from the lollipop. It was wonderfully sweet, dark, and rich. However, when we finished stirring and tasted the beverage, we found the flavor disappointingly weak. We think that a maximum of 4 oz of milk is required for a rich, thick serving of hot chocolate.
Priced at four Swiss francs a pop (pun intended!), the Cuillère Suisse is an expensive treat. I believe that one would do better to buy a jar of chocolate shavings from any shop that sells chocolate in this form. A couple of heaping tablespoons in a cup of hot milk will make an entirely satisfactory rich, hot chocolate without the gimmickry of a wooden swizzle stick stuck into a chocolate ball.
Perhaps the Cuillère Suisse founders realized that in order to sell what is, in my mind, an expensive, impractical product, they needed to launch a campaign to sex up its image…literally! At their stand they distributed postcard-sized photographs of a stark-naked black woman in various erotic and sexually suggestive poses. One image displays what appears to be a rivulet of melted chocolate trickling down her spine. At the same time, she is gripping her buttocks and holding a Cuillère Suisse.
I think that most of the images on these postcards are inappropriate for promoting what is, after all, just a beverage. Also, the fact that yet another chocolate company is using a naked, black woman to advertise its product is irksome. (Suchard, for example, often uses naked, black women to lend an "exotic" aura to its chocolate.) Moreover, the use of this model in these immodest poses suggests to me that La Cuillière Suisse has advanced beyond the portrayal of erotic nudity into pornographic nudity to promote its product.
* * * * * * *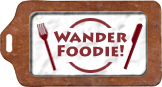 We participate in Wanderfood Wednesdays. Head over there to explore food from around the world!
Like our blog? Join us on Facebook!