Located near the southwest corner of the Luxembourg Garden, the handsome restaurant Les Bistronautes opened its doors just eight months ago. Read our review of this establishment in this month's Le Bon Goût.
Click here to read brief summary of the July issue, and here to enter a subscription.
* * * * * * *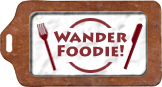 We participate in Wanderfood Wednesdays. Head over there to explore food from around the world!
Like our blog? Join us on Facebook!