After New Year's Day, Kings' cake is a big tradition here. We hustled down to Le Fournil de Mouffetard to buy one.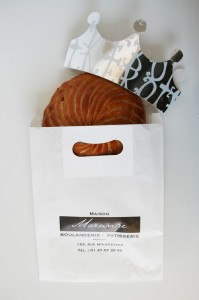 The cake is made with buttery puff pastry and frangipane (almond paste) and doesn't disappoint. Inside the bag is the cake and a cardboard crown. The crown is to be awarded to the person who finds the fêve (trinket) that has been slipped into the confection.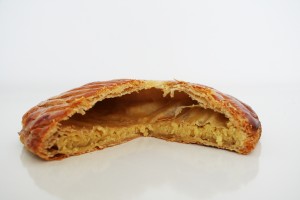 The cakes that I saw in the supermarket had all collapsed. The one that I purchased at the boulangerie held its shape. Its crust had a beautiful brown color.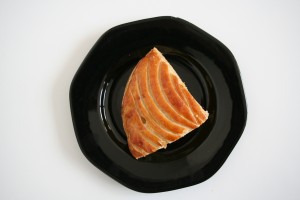 The almond filling was moist and not overly sweet as some of the fillings that we have tasted. It didn't take too long to finish off the slice that we had each cut for ourselves.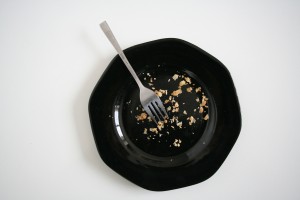 We didn't find the fêve, but only ate half the cake. We'll surely find it tomorrow! Who will wear the crown?
Le Fournil de Mouffetard
123, rue Mouffetard
75005 Paris
Tel.: 01.47.35.07.96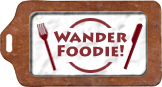 * * * * * * *
We participate in Wanderfood Wednesdays. Head over there to explore food from around the world!
Like our blog? Join us on Facebook!
Tags: Epiphany, galette des rois, kings' cake