We stopped by Marie Gantois' chocolate shop Mococha on rue Mouffetard to see what kinds of confections she is selling for Easter. She is featuring the chocolates of her three favorite chocolate makers, plus a "guest appearance" by a fourth.
We liked the chocolate Easter eggs by Patrice Chapon, who won the Grand Prix de la Mairie de Paris (2003).
The fat chicken by Jacques Bellanger, Meilleur Ouvrier de France (1982), and the puffy fish by Fabrice Gillotte, Meilleur Ouvrier de France (1991) made us smile.
The confections of Gérard Cosme, guest chocolate maker, are particularly celebrated for their coatings, as witnessed by this photograph of a chocolate lollipop displaying the image of a rabbit happily munching on a chocolate cookie.
Happy Easter!
* * * * * * *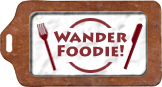 We participate in Wanderfood Wednesdays. Head over there to explore food from around the world!
Like our blog? Join us on Facebook!