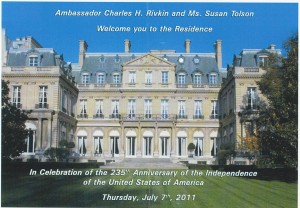 Independence Day was celebrated yesterday at the U.S. ambassador's residence in Paris. The theme of the party was "California Cachet," highlighting California as a tourist destination.
Ambassador Charles H. Rivkin gave a stirring speech (in admirable French) about his hopes for the spread of democracy throughout the world.
American opera star Renée Fleming sang "America the Beautiful," accompanied by the choir of the American embassy, The Dip Notes (not pictured).
Jenna Ushkowitz and Kevin McHale, members of the cast of the American television series Glee, each sang, accompanied by the U.S. Air Force band Check Six.
Hundreds of invited guests, many of them VIP French, including senators and admirals, attended the party held in the garden of the ambassador's residence.
French and American corporate sponsors provided accommodation, food, and beverage. Staff members of the American embassy provided various services, including welcoming the guests.
A good time was had by all!
* * * * * * *
Like our blog? Join us on Facebook!