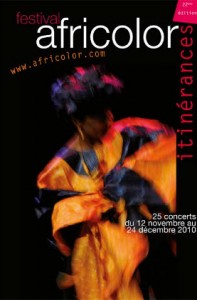 The 22nd edition of the Africolor festival is approaching the end of its season, with its final musical performances scheduled for Christmas Eve. Since 1989, when the first concert opened at the Théâtre Gérard Philipe in the town of Saint-Denis, Africolor has been bringing outstanding musicians to Seine-Saint-Denis (a French administrative département in the Ile-de-France region) to perform African and African-inspired music.
I had the pleasure of attending a concert at the MC93 theater in the nearby town of Bobigny on Sunday, December 5. The concert was a double treat because for the price (16€) of a single entry ticket, two groups from La Réunion would be performing: Groove Lélé with Ernst Reijseger and Mola Sylla; and the Danyèl Waro ensemble. In today's blog I will present the first group, with my comments about the second reserved for another day.
Zembrocal is a popular dish of La Réunion that consists of turmeric, rice or corn, and red or white beans. The diverse people of this island sometimes compare themselves to this dish, because each element keeps its flavor and yet contributes to the overall taste. The group Groove Lélé that performed with Ernst Reijseger and Mola Sylla on Sunday afternoon exemplifies this idea—their music was a mixed bag of melodies masterfully interweaving European music, jazz, African rhythms, song, and dance. At one point I was wondering if I was listening to jazz, and at another I was wondering if I was listening to African music. I finally gave up trying to attach a label to it and decided to just listen and enjoy! If one were to ask the musicians what they were performing, they might say that it is maloya, a genre of music that is associated with Creole culture in La Réunion.
The performances by Groove Lélé, a group of about twelve singers, dancers, and percussionists, were dazzling. The group was founded in 1977 by Granmoun Philéas as a family affair. His goal: to sing and perform maloya, one of the two principal genres of music from La Réunion. With his passing in 2004, two brothers Willy and Urbain Philéas took over leadership of the group. In November of this year, it was awarded the Trophée des Arts Afro Caribéens for the best album of 2010.
Joining Groove Lélé on stage were two outstanding musicians, Ernst Reijseger and Mola Sylla.
Ernst Reijseger is a Dutch cellist who specializes in jazz and contemporary classical music. He has stated that he does not play a standard repertoire when onstage. Rather, he improvises all the way through the performance!
Mola Sylla is a percussionist and singer from Dakar, Senegal. Of his music, Sylla has said, "Previously I only played African music, and now I do not know even what I play. Some people hear elements of classical music, others call it World Music – whatever that is supposed to be – or even pop music. I believe it does not matter. If I play, I feel free." (Volkskrant Magazine, June 1, 2001)
The three elements of the show, Groove Lélé, Ernst Reijseger, and Mola Sylla, combined their talents to serve up a fine dish of zembrocal guaranteed to please the most discriminating palates!