The city of Paris hosted its 51st International Agriculture Show this year from February 22 to March 2. I showed up on the mornings of the third and fourth days with camera in hand to see what would be interesting to photograph. And I found a lot!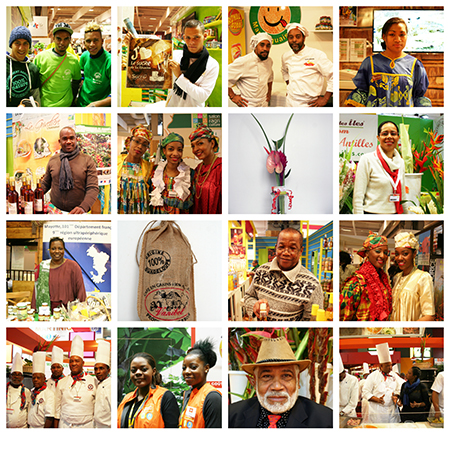 I initially thought that I would go from pavilion to pavilion and take pictures of this and that, but when I arrived, I realized from the immensity of the show that it would take days to explore. There were farm animals of all kinds, including cows, horses, pigs, goats, sheep, and chickens, as well as domestic cats and dogs. Then there was also an immense vegetable exhibit. What to do?
I made my way up to the second floor of Pavilion 7, where the agricultural products of France, region by region, were on display. I reckoned that there would be tasty things to try and that people from the regions would be on hand to explain their products to me. Even then, remembering that France has twenty-six regions, I realized that it would be impossible to explore all that was there. I decided to devote my time exploring one of the regions that I had a little familiarity with, the French Overseas Departments.
France has five overseas departments, and I found all of them there: Martinique, Guadeloupe, French Guiana, Reunion Island, and Mayotte. I also found New Caledonia, a French overseas territory.
One of the first persons I met was Janine Salomon who had flown in from Martinique to display her beautiful flowers. I purchased a bouquet and took them home to present to my wife, Monique, in advance of her birthday. Madame Salomon has a flower shop in the town of Ducos in Martinique called Panier des Iles.
Nearby was a stand called Tropicales Fleurs, attended by Daniel Ambroise from Guadeloupe. He looked quite dapper the way he was dressed, so I asked if I could take his photo. I later searched through the Web site of the salon to try to find the name of his shop. I wanted to post information about it, but couldn't find any listing. The big frustration at this agricultural show is the map that is distributed to attendees and posted on the walls of the pavilions—it is practically useless for finding anything. The search function on the agriculture show's Web site is almost as useless, but with diligence I was able to find information about other exhibitors.
At a stand touting the benefits of bananas from Guadeloupe and Martinique, I met Anne-Sophie and Joan.  They are both from Guadeloupe and live in Paris. Note the image of a banana to the right of Joan—it's sporting a beret! Yes, Guadeloupe and Martinique are part of France, just as Hawaii is part of the U.S.
To be continued…
* * * * * * *
Like our blog? Join us on
Facebook
!
Tags: French Overseas Departments, Salon International de l'Agriculture