We recently stopped by Marie-Hélène Gantois' chocolate shop—Mococha—on rue Mouffetard to see what chocolate confections she is offering for the Christmas season.
Marie told us that this Christmas she has several new products for chocolate lovers.
From chocolate maker Jacques Bellanger (named Meilleur Ouvrier de France in 1982—best pastry chef and confectioner), there are three types of crunchy bars:
Buggatise – crackly, crunchy praline layered with tender caramel accentuated by fleur de sel (sea salt), coated in dark chocolate
Sybille – the same praline, accompanied by almond paste elaborated with Sicilian pistachios, coated with dark chocolate and decorated with pistachios, almonds, cranberries, walnuts, and hazelnuts
Charlotte – praline with raspberry paste coated with dark chocolate and decorated with pistachios, dried figs, cranberries, and cubes of fruit paste.
The bars are 25 cm (roughly 10 inches) long and are beautifully presented in a transparent wrap bound by ribbons on each end.
Marie has also assembled three chocolate delights in a package that she calls the Mococha "Coffret Craquant." It is comprised of chocolate-covered, grilled almonds and chocolate-covered, grilled hazelnuts from Maison Weiss, and chocolate dragées wrapped in gold paper from Maison Médicis. There are also boxes of florentines and mendiants by Maison Weiss, chocolate-covered lemon peel and ginger by Weiss, chocolate-covered orange peels by Maison Corsiglia, and marrons glacés by Maison Corsiglia.
As connoisseurs of hot chocolate, we recommend that you stop by Mococha to sample Marie's delectable brew! Made from Venezuelan dark chocolate (72%), whole milk, crème fleurette, and sugar, it is thick, rich, and slightly fruity in flavor. A cup of this beverage and a macaron by Jacques Bellanger warm both body and spirit!
Mococha
89, rue Mouffetard
75005 Paris
Tel : 01.47.07.13.66
Metro: Censier Daubenton
Hours : Tuesday through Sunday 11 a.m. to 8 p.m.
Monique Y. Wells is cofounder of Discover Paris!—Personalized Itineraries for Independent Travelers and a freelance writer and editor. She is the author of two books, numerous articles about Paris, the Entrée to Black Paris™ blog, and the Les Amis de Beauford Delaney blog.
* * * * * * *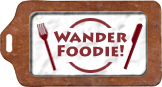 We participate in Wanderfood Wednesdays. Head over there to explore food from around the world!