On Thursday, March 29, I attended a wine and chocolate pairing organized by Bruno Quenioux of PhiloVino and Marie Gantois of Mococha.
At the PhiloVino wine shop, a group of about twenty persons gathered to taste three wines that Bruno had paired with three pure chocolates of origin that Marie brought from her shop. (See Marie's YouTube video of the event here.)
Apart from enjoying from enjoying the wine, the chocolate, and the company the people who gathered at PhiloVino, the purpose of the tasting was to see what kind of harmony or complementarities we could detect when a certain wine was paired with a certain chocolate. During the event, I was balancing a glass of wine in one hand and a camera, pen, and notebook in the other, so was rather distracted. At the first opportunity, I decided to repeat the tasting exercise at home with the first wine/chocolate pair that was presented that evening.
Yesterday, I purchased a bottle of Porto Quinta do Infantado Ruby from PhiloVino and a tablet of Fabrice Gillotte Equateur Chocolat 72% from Mococha. At home, Monique and I each poured a small glass of port and broke off two squares of the chocolate. We then sipped the wine and noted our impressions.
While Monique found the port soft with a long dry finish, I found it dry, not soft, on the tongue with a peppery finish. Both of us agreed that the wine had a fruity bouquet and was not overly sweet.
We then nibbled the chocolate and noted our impressions. The chocolate was quite bittersweet. Monique declared that it had earthy qualities with a hint of fruit. The best I could perceive was that the chocolate was intense (and at 72%, it should be!).
Finally, we nibbled the chocolate and sipped the wine at the same time.
When I tasted them together, I thought that the chocolate smoothed out the dryness of the wine. Monique said the opposite—that the wine smoothed out the taste of the chocolate. This, for her, was a complementary effect. I thought that the flavors of the wine and chocolate were fighting for dominance, which, for me, meant that the two together were not a harmonious pair.
Regardless of the conflicting opinion, we'll enjoy this bottle of port over the next several days (without the chocolate, which has already been eaten). It will make a great after-dinner drink!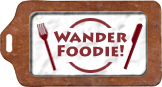 * * * * * * *
We participate in Wanderfood Wednesdays. Head over there to explore food from around the world!
Like our blog? Join us on Facebook!
Tags: Fabrice Gillotte Equateur Chocolat 72%, Mococha, Philovino, Porto Quinto do Infantado Ruby