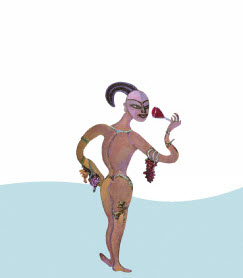 Le Coup de Grâce is a wine shop that opened in September 2009 at 26, rue Berthollet in the 5th arrondissement. We stopped here after attending an open house held for an art exhibit in another part of town.
Arriving at around 9:00 p.m., we asked one of the proprietors, Etienne, if we could order a simple cheese platter and a glass of wine. He directed us to a tall table at which stood two tall chairs, and invited us to take a seat. In response to his question about the kind of wine that we might like to order to accompany our cheese, my partner said, "Viognier," which is a type of white wine grape that produces a distinctive flavor. After a brief discussion about the qualities that this wine might contribute to the cheese platter, we settled for a glass of Martinelle, a vin de pays produced by Corinna Faravel in the Ventoux region of the Rhone Valley.
Etienne served each of us a glass of this pale-gold wine, and placed a platter of four cheeses on the table. These consisted of Saint Pascal, Cantal jeune, Morbier, and Comté. Saint Pascal is a firm, tangy, raw cow's milk cheese from the Appenzell region of northeast Switzerland; Cantal is an ivory-colored, semi-hard cheese – when young (as ours was) it still has the sweetness of raw milk; Morbier is a supple cheese with black layer of vegetable product that recalls the days when soot was sprinkled on the fresh curd to keep insects away; and Comté is a firm, pale cheese with a nutty tang – when mature, it has a pleasant gritty texture due to the crystallization of salts.
As for the wine, I found it to be sharp with notes of bitter almond. My partner described it as soft with notes of peach. Despite these contrasting gustatory perceptions, we both enjoyed it and the cheeses that it accompanied!
While we sampled the wine and cheese, lively jazz played over the sound system.
The bill for the cheese platter and three glasses of wine came to 19€.
The walls of the wine shop are currently decorated with photographs by Jean-Claude Valette. Valette's wife Ivlita Mujiri is the artist who designed the image of the devilish-looking wine taster. The image serves as the logo of the wine shop.
Le Coup de Grâce
26 rue Berthollet
75005 PARIS
Tel. 01.45.35.82.37
Opening hours:
Mondays from 4:00 p.m. to 9:00 p.m.
Tuesdays and Wednesday from 10:30 a.m. to 2:30 p.m. and from 4:00 p.m. to 9:00 p.m.
Thursday and Friday from 10:30 a.m. to 2:30 p.m. and from 4:00 p.m. to 11:00 p.m.
All day Saturday from 10:30 a.m. to 11:00 p.m.
Sunday from 10:30 a.m. to 2:30 p.m.
* * * * * * *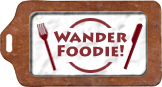 We participate in Wanderfood Wednesdays. Head over there to explore food from around the world!