We like to think that we are the first Anglophones to have discovered and reviewed the restaurant Ame & Esprit du Vin.
Ame & Esprit du Vin is a wine store that opened several years ago on rue Cadet. Just last June, it started serving lunch and dinner. We recently had the pleasure of dining here and had a wonderful experience! Read our review of this establishment in this month's Paris Insights newsletter.
Our newsletter is published monthly as a downloadable PDF file. It is available only to paid subscribers for an annual subscription fee of $30.
If you are not a paid subscriber and would like to download the newsletter, please click here. Enter promotional code 11473309154 to receive a $5 discount off the price of an annual subscription.
Bonne Lecture…et Bon Appétit!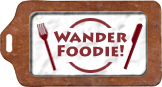 * * * * * * *
We participate in Wanderfood Wednesdays. Head over there to explore food from around the world!
Like our blog? Join us on Facebook!
Tags: Ame & Esprit du Vin