We like to think that we are the first to have discovered and reviewed the new restaurant Les 5 that recently opened on rue Mouffetard just across from Eglise Saint-Médard in the 5th arrondissement of Paris.
Operated by Alexandre Nguyen and David Tran, the establishment serves up delicious French cuisine with Mediterranean and Asian touches prepared by Chef Youssef Gastli. A stark-black façade, a hip and handsomely designed dining room, and congenial service will make this restaurant a favorite for locals and travelers alike who seek great food at moderate prices.
Les 5
136, rue Mouffetard
75005 Paris
Tel.: 01.45.35.73.16
Our full review of Les 5 is available for perusal in this month's edition of Paris Insights newsletter.
Paris Insights newsletter is published as a downloadable PDF file. It is available only to paid subscribers for an annual subscription fee of $30.
If you are not a paid subscriber and would like to download the newsletter, please click here. Enter promotional code 11473309154 to receive a $5 discount off the price of an annual subscription.
Bonne lecture…and bon appétit!
* * * * * * *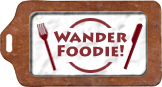 We participate in Wanderfood Wednesdays. Head over there to explore food from around the world!
Like our blog? Join us on Facebook!
Tags: Les 5, restaurant review