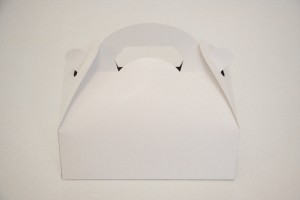 Last Sunday we spotted some delicious-looking cupcakes in the window of Vegan Folie's, a small vegan bakery on rue Mouffetard that specializes in brownies, cookies, cheesecake, and cupcakes. We stepped in and purchased three cupcakes to take home. At 4€ a cupcake, the price was steep, but we were tempted.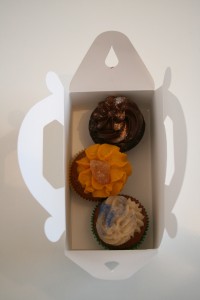 Arriving home, we opened the box. The three cupcakes awaited our eager bites!
The cupcakes had cute names: John Lemon for the ginger-and-lemon-flavored cupcake; Choc Norris for the chocolate-flavored cupcake; and Sid Delicious for the orange-flower-flavored cupcake. They looked scrumptious!
The looks, however, were deceiving, because the cupcakes lacked flavor. The frosting of the Sid Delicious was not particularly sweet; the frosting of the Choc Norris lacked richness and the cake was somewhat dry. As for the John Lemon, it lacked moistness and sweetness, but it was the better tasting of the three.
In short, the cupcakes were bland. They lacked the richness and moisture that only eggs, milk, and butter can bring to a good cupcake recipe. These were vegan cupcakes, made with vegetable substitutes for the three ingredients that are required for a really scrumptious cupcake.
Vegan Folie's
53, rue Mouffetard
75005 Paris
Metro: Place Monge (Line 7)
Open Tuesday to Sunday from 11:00 a.m. to 8:00 p.m.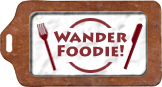 * * * * * * *
We participate in Wanderfood Wednesdays. Head over there to explore food from around the world!
Like our blog? Join us on Facebook!
Tags: rue Mouffetard, Vegan Folie's