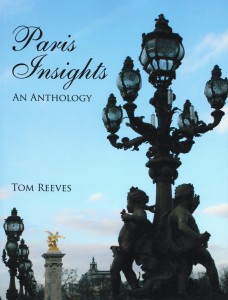 It's not too late to give your sweetheart a valentine to Paris. The Kindle edition of Paris Insights – An Anthology is available for download immediately!
Travel writer Jim Calio has called our book "a wonderful valentine to Paris, unlike anything you're likely to find in a standard guidebook." Better than a box of chocolates, it is a gift that offers an insider's view of the things to love about Paris.
Paris Insights – An Anthology was created with the Francophile reader in mind. Written in a lively, personal style that is both revealing and inspiring, this collection of informative newsletters explores various aspects of history, culture, and contemporary life in the City of Light. Published by Discover Paris!, it contains 33 articles that are grouped into chapters by theme: La Vie Parisienne (Life in Paris), Americans in Paris, Churches and Cathedrals, Tasty Treats, and Paris, Past and Present.
The Kindle edition of Paris Insights – An Anthology is now available to give as a gift with free wireless delivery via Amazon Whispernet. And better yet, a Kindle device is not required to enjoy Paris Insights – An Anthology. Amazon.com provides free Kindle reader apps that allow anyone to read Kindle books on any major computer, smartphone, or tablet. At $9.95, the Kindle edition is a fraction of the cost of our Premium edition, and your sweetheart can receive it instantly thanks to Amazon's Whispernet technology.
To purchase, click on image below.
* * * * * * *
Like our blog? Join us on Facebook!
Tags: Paris Insights - An Anthology, romance, Valentine's Day