On the weekend of September 16 – 18 an event called Les Marchés Flottants du Sud-Ouest was held at quai Montebello, a quay that lies across the river from Notre-Dame Cathedral. Over fifty food producers from southwest France were there, displaying their products and offering them for tasting and for sale. Three French administrative départements were represented: Gers, Lot-et-Garonne, and Tarn-et-Garonne. It was an excellent occasion for tasting some of France's regional produce!
I did not get there until early Sunday afternoon, but nonetheless arrived at a good time. Stopping at pont de l'Archevêché, a bridge that overlooks the quay, I watched and listened to the brass band Beni Can Podi playing like there was no tomorrow. This link to their tune Il a fait de la moto will give an idea of their music. I watched them for the longest time!
From the bridge I could see that the market was not floating as its name would suggest, but rather was on dry land. In spite of this disappointment, I resolved to find the stairway leading down to the quay so that I could join the festival.
When I arrived, I could see tents set up along the quay where the producers were displaying their products. Although there were lots of people milling about, it was fairly easy to move from one stand to another. I was surprised about this, because these kinds of events can attract a big crowd, making it difficult to progress.
I came upon Glosek Gourmet, which sold desserts from Gascony including babas, canelés, and crêpes all soaked in syrup made from sugared Armagnac. What a great idea! I decided then and there to start my lunch with dessert and purchased a plate of the confections for 2€. A good price for three sweet treats!
Next, I came upon cheese producer Tome du Ramier selling (and offering tastings of) two kinds of cheeses: Ramier Roux and Tome du Ramier, both made from raw cow's milk. Ramier Roux is a soft, slightly sweet cheese and Tome du Ramier is a rustic cheese with a strong flavor. I ordered a tartine (not pictured) made of the latter for 2€. It was a country-style, open-faced sandwich consisting of a slice of cheese atop a thin slice of bread. A hearty snack!
Then I came upon the stand Melon de Lectoure, selling beautiful melons called Les Puits d'Amour. I purchased a plate of diced melon for 2€ and enjoyed the orange-colored flesh that seemed similar to cantaloupe but was sweeter and juicier. Food always tastes better when you are in Paris!
Following this wonderful meal, I got in line for a free distribution of fruit from the region. The queue was long, but it moved quickly. I received a bag full of produce containing two bunches of grapes (probably Chasselas), four apples (they looked and tasted like Pink Lady), and two bulbs of garlic.
People sat all along the quay drinking wine and enjoying the food that they had purchased. It was a perfect day for a picnic!
* * * * * * *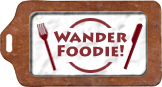 We participate in Wanderfood Wednesdays. Head over there to explore food from around the world!
Like our blog? Join us on Facebook!