Yesterday I spotted Tarte Tatin on the display counter at Morange, a bakery located on rue Mouffetard.
Tradition has it that Tarte Tatin, an upside-down, caramelized apple pie, was invented by the Tatin Sisters in the 1880s. The slices of Tarte Tatin that I purchased had beautiful, large chunks of caramelized apple resting on a flaky pastry shell. I took them home and heated them in the oven at 150°C.
To taste a well-heated Tarte Tatin is to enter gourmet heaven. The apples in the slices that I had purchased were not overly sweet and the thin and flavorful crust was crispy and soft at the same time (crispy where the apples had not touched the edges of the crust).
It is difficult to find a thoroughly-warmed Tarte Tatin in restaurants. In our experience, most of them are served with a cold center, where the density of the apples resists reheating. But the slices that we purchased at Morange came out of our oven piping hot all the way though. They were delectable!
Morange
123, rue Mouffetard
75005 Paris
Tel: 01.47.07.35.96
* * * * * * *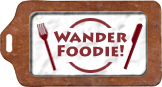 We participate in Wanderfood Wednesdays. Head over there to explore food from around the world!
Like our blog? Join us on Facebook!
Tags: Morange, rue Mouffetard, Tarte Tatin