Servant was originally founded in 1913 as a grocery store in Auteuil, a district in the 16th arrondissement of Paris. The enterprise did not acquire the name Servant until sometime later, when a certain Madame Servant purchased the business and transformed it into a candy and chocolate shop. The boutique has been owned and operated by the Autret family for the last forty years, passed down from father to daughter to grandchildren. The company now sells its chocolates—produced in a laboratory in the basement of the original store—at three locations: two in Paris and one in nearby Neuilly-sur-Seine.
In anticipation of the annual chocolate tasting that we plan to hold in January, we stopped by the shop on rue de Sèvres and purchased samples of three single-origin, dark-chocolate (bittersweet) ganaches, from Venezuela, Papua New Guinea, and Tanzania. Returning to our home, we tasted them the following day to see how they compared in flavor and texture from one origin to the next.
All three ganaches were square shaped with a thin top and bottom shell. As there was no shell around the edges, the confections were slightly irregular in shape. All were dark brown in color, and had a smooth, firm texture. As for aroma and flavor, the differences between the three were subtle and difficult to describe. None of the chocolates could be described as sweet. While bittersweet chocolate may not appeal to everyone's taste, we prefer it to sweet chocolate because we find that unsweetened chocolate has a truer, more natural flavor than sweetened chocolate.
Of the three ganaches that we tasted, we found that the Papua New Guinea had the bitterest chocolate taste. The Venezuelan had a subtle aroma, a dense texture that produced a sticky mouth feel, and a light honey finish. The Tanzanian had an aroma of cocoa butter and I found that it expressed a hint of coconut.
Servant
5, rue de Sèvres
75006 Paris
Telephone: 01.45.48.83.60
30 Rue d'Auteuil
75016 Paris
Telephone: 01.42.88.49.82
22 bis, rue de Chartres
92200 Neuilly-sur-Seine
Telephone: 01.47.22.54.45
* * * * * * *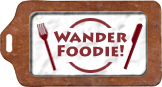 We participate in Wanderfood Wednesdays. Head over there to explore food from around the world!
Like our blog? Join us on Facebook!
Tags: chocolate ganache, Servant