We have long known about the existence of the Debauve & Gallais chocolate shop on rue des Saint-Pères, but not until just recently did we enter to purchase a small (100 gram) sample of their confections.
Spotting five different single-origin chocolate ganaches in the display case, I purchased two of each: Irian Jaya (Indonesia), Principe (West Africa), Caracas (Venezuela), Santo Domingo (Dominican Republic), and Tamatave (Madagascar). That evening, we tasted them.
The chocolates are made from cocoa, cane sugar, butter, and condensed milk, yielding the creamy filling that is called ganache.
While all of the chocolates were rich and delicious, we found it difficult to detect much difference in taste from one origin to another. For me, the Irian Jaya had the strongest chocolate flavor. My partner found the Principe to have a faint fruit flavor. I found the Caracas to be mild with a buttery consistency. My partner liked the Santo Domingo, with its slightly fruity taste and soft, smooth interior. And we both found the Tamatave, from Madagascar, to have the mildest chocolate flavor of the batch.
Founded in 1800 by a pharmacist, Debauve & Gallais has been in business for a very long time. The décor of the shop on rue des Saint-Pères is a beautiful example of Empire style. It was designed by Percier and Fontaine, architects of Napoleon Bonaparte's country home, the Château de Malmaison.
Enter the shop to see a splendid example of the architecture of that post-Revolutionary era.
But hold on to your purse strings! The ganaches that we purchased cost 140€ a kilo, roughly $90 a pound.
Debauve & Gallais
30, rue des Saint-Pères
75007 Paris
Telephone: 01 45 48 54 67
Open Mon to Sat 9:00 a.m. – 7:00 p.m.
* * * * * * *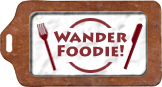 We participate in Wanderfood Wednesdays. Head over there to explore food from around the world!
Like our blog? Join us on Facebook!