The family-owned company Michel Cluizel is one of the few chocolate makers in France that transforms raw cocoa beans into chocolate confections. They have direct collaboration with cocoa planters around the globe, which accounts for the fact that they can offer a small box containing squares of chocolate from plantations located in different parts of the world. The collection of chocolates is called "Les 1er Crus de Plantation," which they translate as "Single Estate" chocolates on their U.S. Web site.
I purchased a box containing sixteen dark-chocolate squares from five different plantations at the Michel Cluizel shop at 201, rue Saint-Honoré: Los Anconès in Santo Domingo, Concepcion in Venezuela, Vila Gracinda in Sâo Tomé, Mangaro in Madagascar, and Maralumi in Papau – New Guinea. Returning to our apartment, my partner and I proceeded to taste them, one by one. The chocolates contain 64% – 67% cocoa, making them slightly bitter. Each chocolate had distinctive flavors, and we appreciated all of them.
I found the Santo Domingo chocolate to be the mildest of the batch. My partner noted a burnt flavor that predominated at first, followed by a slightly fruity flavor. The Michel Cluizel brochure that came with the box affirms notes of licorice, red fruits, green olives, dried currants, and apricots.
My partner declared that the Venezuela chocolate had an initial flavor of earth followed by a nutty flavor. I found its texture to be silky smooth. Michel Cluizel proclaims hints of vanilla, gingerbread, caramel, and dried and black fruits.
I thought that the Sâo Tomé had an earthy flavor. My partner also identified earthy notes, followed by red fruits. Michel Cluizel claims toasted, spicy, herbaceous notes with flavors of ripe tropical fruits and licorice sticks.
For my taste, the Madagascar had notes of pomegranate. My partner tasted caramel, honey, raisins, and banana. Michel Cluizel declares exotic fruit with aromas of gingerbread and citrus fruit.
My partner detected raisins and green apple in the chocolate from Papua New Guinea, while I could not identify a dominant taste or aroma. Michel Cluizel asserts green banana and red currants.
Single-estate chocolates, like fine wines, are to be savored and enjoyed. If you are fortunate enough to have access to some, buy several varieties and conduct your own tasting!
* * * * * * *
Special announcement!
We organized a taste test on chocolate-covered cherries this month, the results of which we will publish in our Paris Insights newsletter on February 1st.
* * * * * * *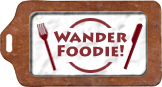 We participate in Wanderfood Wednesdays. Head over there to explore food from around the world!
Like our blog? Join us on Facebook!