We stopped by Marie-Hélène Gantois' chocolate shop Mococha just yesterday to learn about a new product that she is featuring. It is called Rrraw and is produced by local chocolate-maker Frédéric Marr. He is one of the few in France who transform cocoa beans into chocolate and then into chocolate confections, rather than creating chocolate confections from chocolate that has already been processed from the bean.
Even more exceptionally, Marr's chocolate confections are made from cocoa beans that have not been roasted, hence the name "Rrraw" (meaning "raw") that he gives to his chocolate. Most chocolate makers roast their cocoa beans—Frédéric Marr does not. The resulting raw-chocolate confection has a pronounced earthy flavor.
We purchased a 50-gram bar called 88% Cacao Pépites. True to its name, it is a dark chocolate with grainy texture and an earthy taste that is neither too sweet nor too bitter. Its only ingredients are raw cocoa-bean, cane sugar, cocoa butter, and salt.
Rrraw chocolate is available at Marie's shop until December 15.
Mococha
89, rue Mouffetard
75005 Paris
Telephone: 01.47.07.13.66
Open Tuesday through Sunday from 11:00 a.m. until 8:00 p.m.
* * * * * * *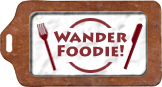 We participate in Wanderfood Wednesdays. Head over there to explore food from around the world!
* * * * * * *
Like our blog? Join us on Facebook!
Tags: Frédéric Marr, Mococha, Rrraw