The French chocolate company deNeuville has launched a special line of chocolates for Christmas—Mini-bûches de Noël. These are bite sized ganaches, truffles, and pralines, all with a soft interior that is enrobed in a firm chocolate shell. Colored sugar crystals sprinkled on the shell add a festive touch.
We tasted three:
The Feuilleté Châtaigne is a chestnut praline enrobed in milk chocolate. We found the chestnut flavor to be so mild that we could barely distinguish it from the flavor of the milk-chocolate shell.
The Délice Vanille is a ganache that has a creamy vanilla-flavored center encased in a crunchy dark-chocolate shell. I found the center to have the flavor of strong eggnog, which triggered memories of the days when I could drink the beverage without gaining too much weight. Those days are over, so this eggnog-laced nibble is all that I will get for this season.
The Truffe Meringuée is a dark-chocolate truffle containing tiny bits of meringue covered in a firm, dark-chocolate shell.
While industrially-produced chocolates (which these are) are always satisfactory, we nonetheless prefer the more robust flavors of chocolates produced by small, artisanal chocolate makers. We'll have something to say about the chocolates of an American artisanal chocolate maker in the coming days.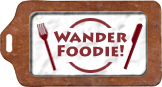 * * * * * * *
We participate in Wanderfood Wednesdays. Head over there to explore food from around the world!
Like our blog? Join us on Facebook!
Tags: bûche de Noël, deNeuville