During our last visit to Première Pression Provence, manager Jenna Thornton offered us a package of confiseries à la figue that are made in Provence. We took them home, tasted them, and found that we liked them very much!
These round, three-layered sweets measure 7/8″ in diameter and are 1/2″ thick. The top layer consists of hard-sugar frosting, the middle layer a pasty confection of fig, almond, and melon, and the bottom layer a paper-thin azyme made from potato starch and sunflower oil. Small enough to pop into the mouth, they are sweet and chewy. The immediate and lasting flavor that I experienced was, strangely enough, cinnamon, which is not even an ingredient. It must have been the fig that I tasted, which, for me, has a cinnamon-like flavor. Monique declared that almond was the predominant flavor.
Première Pression Provence
51, rue Saint-Louis-en-l'Ile
75004 Paris
Telephone: 09.66.98.23.48
Open Sunday to Friday 10:30 a.m. – 8:00 p.m.
Saturday 10:30 a.m. – 10:00 p.m
* * * * * * *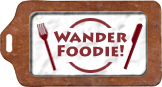 We participate in Wanderfood Wednesdays. Head over there to explore food from around the world!
* * * * * * *
Like our blog? Join us on Facebook!