Just before Christmas I stopped by Café Lanni and purchased 250g of whole-bean Bruzzi Daterra. Priced at 16.60€/kg, the medium-roast coffee beans display a beautiful brown robe de moine color. Brewed in my French press, the coffee produces a chocolaty, smooth, almost sweet, full-bodied taste.
Bruzzi Daterra is an estate-grown coffee from central Brazil.
Café Lanni
54, rue du Faubourg Saint-Denis
75010 Paris
Tel.: 01.47.70.33.43
* * * * * * *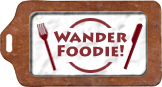 We participate in Wanderfood Wednesdays. Head over there to explore food from around the world!
Like our blog? Join us on Facebook!
Tags: Bruzzi Daterra, Café Lanni