According to the company's Web site, the founders of Puyricard chocolate began their trade in Kinshasa, the capital of the country that is now called the Democratic Republic of Congo. They were a European couple who chose to continue to live there after the country had wrestled free of Belgium control.
While in Kinshasa, Jan Guy and Marie-Anne Roelandts were determined to learn chocolate making, a skill that would be useful if and when they had to return to Europe. When that day finally came in 1967, they left the Congo and settled in Provence, where they set up shop as chocolate makers. That shop grew into a factory, and Puyricard now has fifteen stores in France, most of them in the south. I stopped by the one in Paris located at 6, rue du Pont Louis-Philippe where I purchased a 110 gram tablet of 100% chocolate called Masse de Cacao.
I knew that the chocolate tablet that I had purchased would be bitter, but that was the point. I simply wanted to taste bitter chocolate to see what it was like. Before I purchased the bar, the shopkeeper kindly tried to lead me to one that had only 73% chocolate, hence less bitter, but I didn't let her sway me.
Taking the chocolate home, I persuaded Monique to join me in the tasting. Here are our notes:
Monique – Grainy, pasty texture. Does not melt smoothly. Bitter flavor with notes of smoke and earth.
Tom – Earthy, burnt flavors, like smoke and ashes. Very bitter, aggressive. Burnt-paper flavor. Grainy, not velvety, texture.
In short, Monique didn't like the flavor, but, in spite of the bitterness, I did. I let two squares of the chocolate melt slowly in the mouth. The bitterness was intense, but not unpleasant.
Incidentally, the Masse de Cacao tablet produced by Puyricard is not baking chocolate. It is specifically made for tasting. The less a chocolate is sweet, the more its true aromas come through. Try some and see!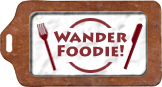 * * * * * * *
We participate in Wanderfood Wednesdays. Head over there to explore food from around the world!
Like our blog? Join us on Facebook!
Tags: Puyricard