The folks at HostelBrokers.com recently invited me to contribute a guest blog for their September "Love Paris"campaign. I was happy to comply and wrote an article about one of my favorite subjects: coffee. Click here to read about Verlet, a store that sells fresh-roasted coffee beans and offers sit-down service where you can order an espresso made from any of the twenty-seven coffees of origin that the shop sells.
* * * * * * *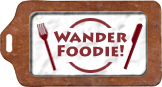 We participate in Wanderfood Wednesdays. Head over there to explore food from around the world!
Like our blog? Join us on Facebook!
Tags: coffee