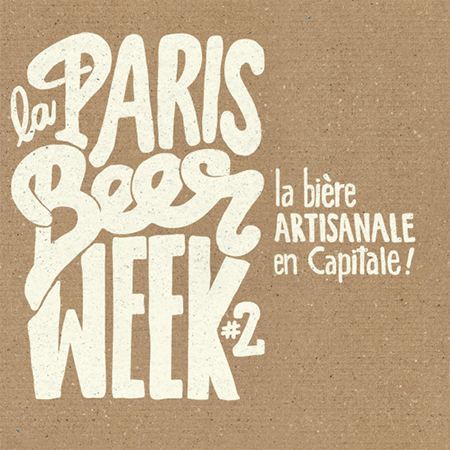 Did I say in Part I that the greatest thing about Paris Beer Week is that only artisanal beers are featured? I didn't fully comprehend this until I walked upstairs to the exhibition hall where thirty-one artisanal breweries from all over Europe had their stands. It was then that I realized that I would need a lot of tokens to taste them all!
The hall is vast and because I arrived fairly early, there was lots of room in which to move around. The brewers' stands had been set up all around the periphery. The first thing that I did was to look to see which brewer was pouring the black beer that had elicited so much enthusiasm down on the terrace.
I quickly found it. The beer is called Aupa Tovarisch and it is brewed by the Laugar Brewery in Spain. The lovely Cécile Thomas, whom I have blogged about before, was pouring. She told me that the beer is aged for one year in 18-year-old barrels that once contained Lagavulin whisky.
Aupa Tovarisch is an opaque beer with strong, bitter flavor of coffee and chocolate. I enjoyed its taste at first, but as I continued to drink it, I began to think that it was like drinking cold, bitter coffee left over from the day before.
Cécile told me that the price of a glass of this brew was two tokens, not one. That left me with only one token.
Which would be the last beer that I would choose? As I looked around, I asked myself, "Why not try an English beer?"
I found Sam pouring Life is a Peach, brewed by Siren Craft. He told me that the brewery is located near Reading, about 30 miles from London.
This golden beer tasted somewhat bitter, with the mild flavor of peach. Nice!
I spotted sketch artist Alix Maubrey across the room. She captured my image in five minutes and made me look 50 years younger. Thanks, Alix!
It had been a good day, tasting craft beers and meeting people. I look forward to next year's Paris Beer Week!
* * * * * * *
Like our blog? Join us on
Facebook
!
Tags: Paris Beer Week