While we were looking for a bakery from which to buy a galette des Rois last week, we came upon a smart-looking shop selling fresh-roasted coffee beans called Terres de Café. The store sells only café de terroirs—coffees coming from specific regions of specific countries, such as Ethiopia Anfiloo or Guatemala Attila SHB Huehuetenango.
The shop is rather small, but the owners have found room to install a counter from which they serve espresso coffee. When we entered, a few customers were enjoying their cup of java there.
In response to his question about what kind of coffee I was looking for, I told the clerk that I was looking for a coffee that was not too strong…but not too weak. He replied that I was trying to do a grand écart, implying that it would be impossible to bring the opposites together in one brew! Then he took a giant step and stood legs wide apart (a grand écart), showing how awkward this was. I suspect that some customers might have felt put off by this response, but having lived in France for eighteen years, I am used to the French expressing their ideas in ironic, sometimes oddly humoristic ways.
He proposed a house blend called Mélange Parfait Expresso consisting of four cafés de terroirs: India, Sumatra, Brazil, and Ethiopia.
I purchased a 250-gram bag of whole bean for 6.50€ and took it home to try it out, using my French press to brew the coffee. I found the aroma slightly sweet, and the taste to be full-bodied, smooth, and slightly sweet with no bitter aftertaste. Neither too strong nor too weak, it is a perfect grand écart!
The clerk told me that I should try the bakery Pain de Sucre for the perfect galette des Rois. I blogged about the bakery and its galettes last Wednesday. He also mentioned that Terres de Café has a larger shop next door to the bakery, where there is more room to enjoy an espresso at the counter.
Terres de Café
32, rue des Blancs Manteaux
75004 Paris
Tel: 01.42.72.33. 29
14, rue Rambuteau
75003 Paris
Tel: 01.42.78.49.79
* * * * * * *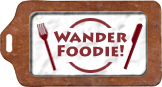 We participate in Wanderfood Wednesdays. Head over there to explore food from around the world!
Like our blog? Join us on Facebook!