Oleg Kononov and Irina Kononova came to Paris from Moscow five years ago. Read about Les Trois Carafes, a restaurant that they opened near the Jardin des Plantes, and the delicious food that is served there in this month's Le Bon Goût.
Le Bon Goût is a restaurant review that you will find in Paris Insights, a newsletter about the history and culture of Paris, as well as our observations on contemporary life in the city. It is published monthly as a downloadable PDF file and is available only to paid subscribers for an annual subscription fee of $30.
If you are not a paid subscriber and would like to download the newsletter, please click here. Enter promotional code 11473309154 to receive a $5 discount off the price of an annual subscription.
* * * * * * *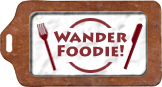 * * * * * * *
We participate in Wanderfood Wednesdays. Head over there to explore food from around the world!
Like our blog? Join us on Facebook!
Tags: Les Trois Carafes