On a recent excursion into the 17th arrondissement, we stepped into Puerto Cacao, a chocolate shop that processes cocoa beans to make its own confections. (Most of the chocolate vendors that we have heretofore reviewed either create their own confections from refined chocolate or resell chocolates that have been made by somebody else.) The store is spacious and well stocked with sweets in just about every conceivable form, from dark chocolate, to milk chocolate, to white chocolate. Having been inspired by the hot chocolate of Le Cuillère Suisse (which I reported on in my blog of Wednesday, November 17), we were looking for an alternative way to make the beverage.
We were greeted by salesperson Monica Ardelean, who explained to us that she had two products that would serve for making hot chocolate. One was a powdered cocoa sold in a bag; the other was a solid block of Venezuelan chocolate. She expressed greater enthusiasm for the second product, saying that it produced a better brew. Indeed, she sold hot chocolate in her shop and invited us to taste it! We found it hearty and somewhat bitter, but not unpleasantly so.
We purchased a 310-gram block of the chocolate for 5€ and took it home to try the recipe that Monica gave us. We cut 100 grams (3.5 oz) off the block and melted it in a double boiler on the stove. At the same time we heated one liter (about one quart) of milk in a saucepan. When the chocolate was melted and the milk was hot, we stirred about one-half cup of hot milk into the chocolate, along with 15 grams (about one tablespoon) of sugar and about one-quarter teaspoon of vanilla. We then blended this mixture in a blender. Monica's recipe called for transferring the blended mixture into the saucepan of milk and stirring. However, the chocolate paste in the blender was too thick to pour, so we reversed the process, adding the milk from the saucepan into the blender. We turned on the blender and – voilà! – we had a frothy, hot chocolate beverage. (For those who try this, the milk should not be hotter than 80°C (176°F) to avoid damage to the blender.)
We found our hot chocolate to be as bitter as the beverage that we had tasted in the store. We realize that chocolate in its purest form is a bitter product, so we added another tablespoon of sugar and another quarter teaspoon of vanilla. This time, the sugar helped temper the aggressiveness of the chocolate. The beverage was hearty and filling.
Making hot chocolate in this way will try the patience of many, especially those who are accustomed to making chocolate milk from instant cocoa powder. There is the wait while the solid chocolate melts and the milk heats; then there is the task of blending the two liquids together. Finally, there are utensils and countertop to clean up afterwards. But the reward for those with forbearance will be a satisfying cup of hot chocolate made from cocoa beans from Venezuela. It is about as authentic a beverage as you can get!
* * * * * * *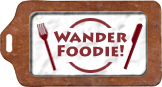 We participate in Wanderfood Wednesdays. Head over there to explore food from around the world!
Like our blog? Join us on Facebook!