On Thursday, March 24, the wine purveyor Nicolas held its first exclusive wine tasting – Les Vinissimes – at the Maison des Polytechniciens at the Hôtel de Pouprey in Paris' 7th arrondissement.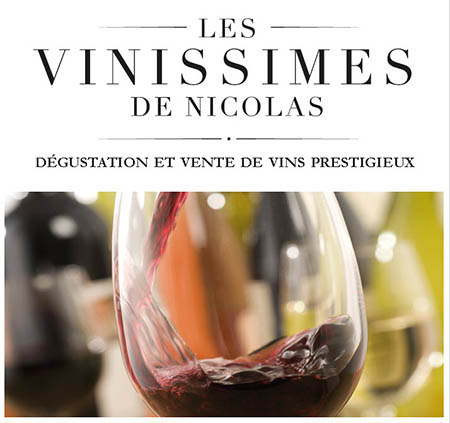 Nicolas organized two parallel wine tastings. The first, called Salons des Grands Vins, was for tasting prestigious wines, and the second, called Salon des Vins de Légende, was for tasting legendary (even more prestigious) wines. Accompanied by Diana Shu, caviste (wine merchant) at the Mouffetard branch of Nicolas, we visited several tables at the Salon des Grands Vins.
Though we concentrated on red wines, we first tasted a white Puligny-Montrachet 1er Cru Les Folatières by Louis Jadot. We savored this Burgundy wine and appreciated its mineral character. But because my partner had a distinct memory of a Gevrey Chambertin that she had appreciated at a dinner that took place the night before the tasting, we moved on in the hope of finding the wine maker that had produced this particular wine.
It just so happened that the very next table that we visited was manned by the maker of the wine that she had enjoyed the previous evening. Remoissenet Père et Fils, from the Burgundy region, was offering the 2011 edition of its wine, which, we were advised, could benefit from at least a couple of additional years of aging. My partner declared that the 2008 wine that she had tasted the night before was quite different, but she enjoyed the 2011 wine as well.
We went on to taste a Meursault by Joseph Faiveley in Burgundy and several Bordeaux wines—in particular several from the AOCs (controlled designations of origin) of Saint-Estèphe, Saint-Emilion, and Margaux.
Our favorite was a 2009 Château Durfort Vivens, 2ème Cru Classé by Lucien Lurton & Fils.
After all this, we ventured over to the Bruno Paillard champagne table and were chagrined to discover that they had run out of samples. We then sought out a sweet wine to end our tasting experience and were gratified to find an exceptional Sauternes by Château Suduiraut.
We enjoyed this immensely, particularly because it was our last sampling for the day.
We extend thanks to our gracious hostess, Diana Shu, for having accompanied us on this extraordinary wine adventure!
* * * * * * *
Like our blog? Join us on
Facebook
!