While exploring the chocolate boutique Ambre & Sucre on avenue des Gobelins in Paris, I came upon a dark chocolate called Lemon & Pepper. I purchased a tablet and took it home to taste.
The tablet has a matte finish and contains a minimum of 57% chocolate. To the taste, it has a light lemon flavor with a long, slightly hot, peppery finish. The chocolate melts slowly in the mouth and has little crunchy pepper granules, like grains of sand, that "tickle the tongue."
This is one of the nicest flavored chocolates that we have tasted in a long time!
Ambre & Sucre is the sole distributor of Cachet brand chocolate in Paris.
Ambre & Sucre
10 bis, avenue des Gobelins
75005 Paris
Tel.: 01.43.37.39.64
Open Tuesday to Saturday from 10:00 a.m. to 7:00 p.m.
Metro: Gobelins (Line 7)
* * * * * * *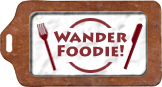 We participate in Wanderfood Wednesdays. Head over there to explore food from around the world!
* * * * * * *
Like our blog? Join us on Facebook!
Tags: Ambre & Sucre, Cachet, Lemon & Pepper