We recently ventured into Le Comptoir de Tunisie, a boutique that sells fine-food products from Tunisia, where we purchased a jar of lemon marmalade.
Made in Tebourba by a company called Les Moulins Mahjoub, the marmalade has a caramelized brown color. We would not have imagined that a lemon product of any kind could be so dark! The lemon peel in this confection has been pulverized, yielding a grainy texture. The flavor is tangy, sweet, and sour all at once. Spread on warm Scottish oatcakes, it makes a great breakfast accompaniment!
Le Comptoir de Tunisie
30, rue de Richelieu
75001 Paris
Tel. 01.42.97.14.04
Open Monday to Friday from 11:00 a.m. to 7:00 p.m.
Metro: Palais-Royal (Lines 1 and 7) and Pyramides (Lines 7 and 14)
* * * * * * *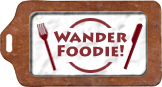 We participate in Wanderfood Wednesdays. Head over there to explore food from around the world!
* * * * * * *
Like our blog? Join us on Facebook!
Tags: Le Comptoir de Tunisie, lemon marmalade, Moulins Mahjoub, Tebourba, Tunisia