We stopped by the award-winning bakery and pastry shop of Arnaud Delmontel a few weeks ago and purchased Le Royal, a chocolate pastry in the form of a cube. Covered with dark chocolate syrup it has a hard-shell top and a chocolate mousse filling. When I bit through the dense mousse, I discovered a crunchy shortbread crust, which provided a nice contrast to the soft texture of this confection. The bittersweet chocolate flavor of Le Royal will please most chocolate aficionados.
Delmontel
9, rue des Martyrs
75009 Paris
Tel: 01.48.78.29.33
Open every day from 7:00 a.m. to 8:30 p.m. except Tuesdays.
* * * * * * *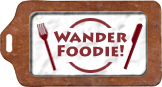 * * * * * * *
We participate in Wanderfood Wednesdays. Head over there to explore food from around the world!
Like our blog? Join us on Facebook!