Sakebar Youlin is a tiny restaurant located on rue Valette, just down the hill from the Pantheon. We recently dined there and then met the owner and chef to learn more about the inspiration behind the Franco-Japanese cuisine that is served there. Read our review in this month's Le Bon Goût.
Click here to read a brief summary of the August issue, and here to enter a subscription.
* * * * * * *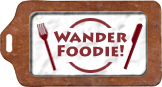 We participate in Wanderfood Wednesdays. Head over there to explore food from around the world!
Like our blog? Join us on Facebook!