On Saturday, I joined a Francophone group on a walking tour to explore Indian and Pakistani culture in Paris.  For lunch, we went to the passage du Prado in the 10th arrondissement, where a number of inexpensive restaurants can be found.
Because of limited space in the small restaurants there, our group split into two.  A number of us ate at Ile aux Cerfs, an establishment that specializes in the cuisine of the island of Mauritius.  Mauritian cuisine is a blend of Indian, African, Chinese, and European influences.
The menu offers a wide variety of dishes, including goat, fish, beef, and chicken.  Most of the dishes are served with rice and a vegetable.  I spotted Briani Poisson Capitaine, a rice-based fish dish, for only 5.50€.
I was served a portion of perch (capitaine), smothered in long-grain rice flavored with saffron and cinnamon and a "salad" of grated carrot.  The rice was quite savory, the fish was somewhat dry, and the grated carrot was fresh.  In spite of the dryness of the fish, I enjoyed this course.
The most expensive dishes on the menu were 8.50€.  One of my dining companions ordered one of these, the Carri Cabri P.D.Terre Riz Salade, a plate of stewed goat smothered in spicy gravy and served with potatoes, rice, and salad.
For dessert I ordered a cake made from manioc flour and dusted with grated coconut.  I wasn't sure of what to expect, and was quite pleased to discover that it was delicious!  I later found a recipe for the cake on the Internet and learned that it contains not only manioc flour, but also coconut milk and eggs.  It has a silken, gelatinous texture, but because it is dusted with grated coconut, it can be picked up with the fingers to be eaten.  The portion of cake cost only 1.20€.
My total bill, including the fish dish, the cake, and a small bottle of sparkling water (beer and wine are not served here), came to 8.80€.  Quite a bargain for such a filling meal!
The small restaurant is a popular place and by the time we finished our meal many of the tables were occupied.
A confined dining area is one of the first things that one must learn to expect when dining in inexpensive restaurants in Paris.  (I sat elbow to elbow with the dining companions to my left and right during the meal.)  However, the restrictive space at Ile aux Cerfs is compensated by friendly service and a good, inexpensive meal.  It represents a great option for travelers on a limited budget.
Ile aux Cerfs
12, rue du Faubourg Saint-Denis
8 – 10, passage du Prado
75010 Paris
Telephone:  01.44.83.98.20
Metro: Strasbourg-Saint-Denis (Lines 4, 8, and 9)
* * * * * * *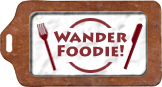 We participate in Wanderfood Wednesdays. Head over there to explore food from around the world!
Like our blog? Join us on Facebook!