The twelfth day of Christmas, Epiphany, is celebrated with Kings' cake, or galette des Rois, as they are called in France.
The cakes, made of flaky puff-pastry layers with a dense center of frangipane, are sold in bakeries during the month of January. We wanted to purchase our galette from a specific bakery in the Marais, but when we arrived at the address we found that it was no longer in business. We stopped at a coffee house in the neighborhood to purchase some fresh-roasted coffee beans and were told that one of the finest bakeries in Paris was the nearby Pain de Sucre. So we hastened over there and purchased a small galette (for two to four persons). This 6 ¾" diameter by 1" tall cake weighing 290 grams cost 20€. A pretty penny to pay for such a small cake!
We found the galette to be quite buttery and flaky; its 3/8" almond-paste filling was light and airy, rather than heavy and pasty as one so often finds in these pastries. Each contains a porcelain bean (fève, in French). The person whose slice contains the fève is King or Queen for the day! He or she gets to wear a paper crown, which is provided with the galette.
Pain de Sucre
14 Rue Rambuteau
75003 Paris
Tel: 01.45.74.68. 92
* * * * * * *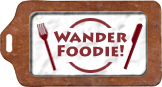 We participate in Wanderfood Wednesdays. Head over there to explore food from around the world!
Like our blog? Join us on Facebook!