While one can find short citations on the Internet that mention the existence of Les Belles Miettes, a restaurant in the 11th arrondissement that has been open since 2009, to our knowledge there are no full-length reviews of this fine establishment.
Read our review of Les Belles Miettes in this month's Paris Insights newsletter.
Our newsletter is published monthly as a downloadable PDF file. It is available only to paid subscribers for an annual subscription fee of $30.
If you are not a paid subscriber and would like to download the newsletter, please click here. Enter promotional code 11473309154 to receive a $5 discount off the price of an annual subscription.
Bonne Lecture…et Bon Appétit!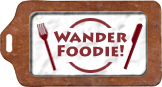 * * * * * * *
We participate in Wanderfood Wednesdays. Head over there to explore food from around the world!
Like our blog? Join us on Facebook!